Merry Christmas 2022 and a Happy New Year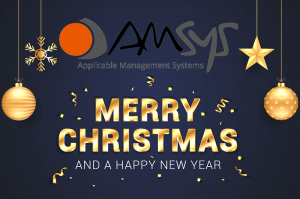 Dear Sir or Madam,
the year 2022 is almost over,
and, as always, we send you a little poem.
There is a lot to report from this year,
which motivates us to keep on writing poetry so beautifully.
AMSYS has dealt with many exciting topics,
and gave the LCM Client an innovative look.
The Life Cycle Management Client modern and fast,
that all software users find excellent and original.
The OM Portal also shines in a new design,
with great extended functions – how fine.
With the database search, everyone has gained time,
the railroad operators have heard it with joy.
We have exhibited at trade fairs this year,
a successful time and not to forget
IIOM conference and Electronica were wonderful,
the AMSYS team is very proud, that's for sure.
On social media, AMSYS is very active,
there is a post every two weeks – totally creative.
It's a great way to stay up to date,
and has all obsolescence news right at hand.
We wish you a merry christmas time,
with family and friends when it snows outside.
Likewise to all a healthy slide into the new year,
as usual we will be there for you again in 2023.
With the best pre-Christmas greetings and see you soon,
Björn Bartels, Hans-Georg Dück and the entire AMSYS team.
Small hint:
In the time from 23.12.2022 to 01.01.2023 we are in company vacations.
Further information under:
Life Cycle Management (LCM) Client: www.lcm-client.com
Obsolescence Management (OM) Portal: www.obsolescence-management.net
or as usual on our website: www.am-sys.com
Merry Christmas 2022 and a Happy New Year