Join AMSYS at electronica 2022 – B4.118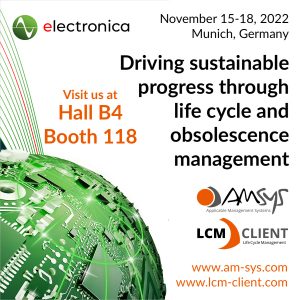 Join AMSYS at electronica 2022 – B4.118
Join us at electronicafair – Hall B4 Booth 118 – World's leading trade fair and conference for electronics! We'll be there live, on-site in Munich from November 15-18, 2022. Let's drive sustainable progress with life cycle and obsolescence management together.
AMSYS  will showcase their Life Cycle Management (LCM) Client application live in a new design and with more power than ever before. – www.lcm-client.com
Change the way you work with your fully automated and digitized reactive as well as proactive processes and traceability of all actions. With all the information you need to stay ahead at your fingertips, powered by Siliconexpert component data fully integrated.
Join AMSYS at electronica 2022 – B4.118