AMSYS at Electronica trade fair 2022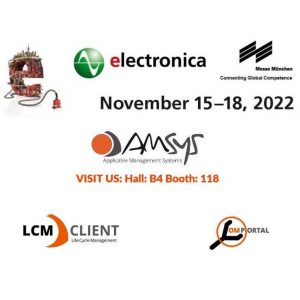 AMSYS at Electronica trade fair 2022
On 15-18. November 2022 the world's leading trade fair and conference for electronics will take place in Munich.
For the first time AMSYS will be represented at the electronica with a booth. We would like to invite you to our AMSYS booth number 118 in hall B4.
We would be happy to advise you personally on site and present our Life Cycle Management (LCM) Client software and the Obsolescence Management Portal in new design.
Feel free to contact us for an appointment as well as a free ticket at: info@am-sys.com
AMSYS at Electronica trade fair 2022
Visit us in advance at:
https://www.am-sys.com/
https://lcm-client.com
https://www.obsolescence-management.net/
Powered by AMSYS